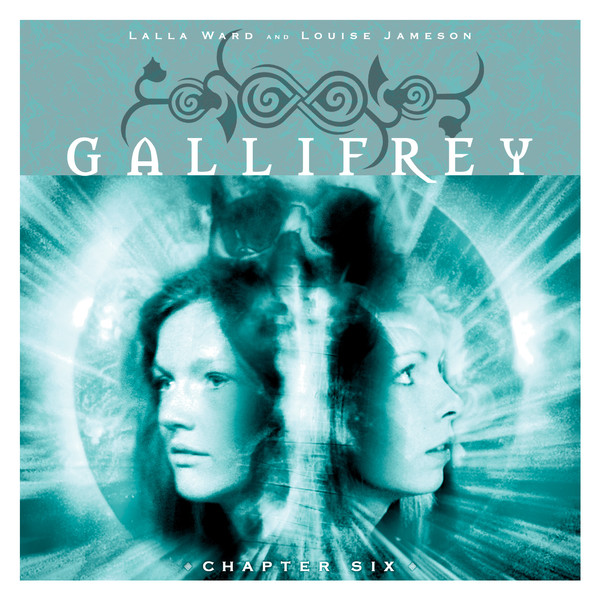 "You see no magic in anything."/"You see it everywhere."/"Then which of us is wiser?"
Stephen Cole's
Spirit
is, for the most part, a two-hander between President Romana and her bodyguard Leela, with only small appearances from the rest of the supporting cast. At this stage in
Gallifrey
, with ambitious arc plots firmly in place, it makes a lot of sense to slow the pace down a little and do a character piece focussing on your two leads, and fortunately the result is much stronger than Cole's effort for the first series.
Spirit
convincingly looks at the relationship between Romana and Leela from several different perspectives - as mystic to sceptic, as two former friends of the Doctor's, as President addressing her bodyguard, as someone not used to surviving in the wild speaking to someone who is. Better still, it mines Leela's former troubles and anxieties - grief at losing Andred and disappointment when he returned a different person - for all they're worth, selling the idea from the off that she is fed up of Time Lord machinations and wants to leave Gallifrey as soon as she can. It
might
be my favourite thing Stephen Cole's written (discounting
The Wormery
, which feels more like Paul Magrs in any case).
I understand that Spirit is the only audio of the five in Gallifrey II to take place off-world, with the rest mainly consigned to staying on Gallifrey itself. Here, Cole whisks us off to Davidia, "a place of freedom", a presidential retreat planet where Romana and Leela go to spend some time in quiet meditation. It makes a nice change of scene, with some strong post production/sound design work done to convincingly give us a sense of the duo's lush, verdant surroundings (wind in the trees, whooping alien birds, exotic drumbeats, that kind of thing), whilst also allowing Cole to show us just how differently the two react to where they find themselves. Where Leela breathes in the air exultantly, Romana is quick to analyse its chemical content, and, while it's mostly played as gentle amusement, it still illustrates that neither can quite occupy the mindset of the other. Even little things like understanding the way Davidia's six moons - two orbiting in one direction, four orbiting in the other - cause its seas to be stormy though the weather is mild illustrate the rift between the two: feeling and thought, sensuous movement and logical rationality, Romanticism and Enlightenment, heart and head (see also "the world is funny to one who thinks but tragic to one who feels", a paraphrase of the words of Horace Walpole, author of the great Gothic novel The Castle of Utranto - we are being invited to contrast the two along 18th century lines of thought). It's not quite that simple - never is - but it's an interesting way of playing them off one another as opposites. Note, certainly, that Leela explicitly compares her situation on Gallifrey to the sea, that emblem of tumultuous Romantic inspiration: "roused and calm and stirred up by these different bodies whirling around me, distant and removed, locked in wary conflict but never touching, and I can only look on, tugged about by their movements".
Leela's opening speech to Romana is fantastic, a really great bit of characterization that addresses how Leela really might react to things - someone who has been plucked from the Sevateem, seen countless things and countless places she does not understand, then been landed in the middle of an austere, revered, ancient civilisation, only to find that its inhabitants are far more deceitful, far less plain-speaking, than she is: "Am I so helpless? Yes, here in these stifling, sunless rooms of yours, perhaps I am! I have only one body. This one. I cannot change it. It will not wear your clothes or walk your stilted pathways. I have only one voice inside me. This one. And my words can never be as clever as yours. I have only one mind, and it is steadfast, but small next to yours. I cannot grasp the games you play with people and their lives, and I do not wish to!" As I commented on
Lies
, there's some really nice work here pairing how Leela has been 'betrayed' by Andred's changing with the revelation that Romana used to be a different person, too, and this has interesting ramifications for whether Leela will continue to trust the President going forward.
This is only the beginning of a set of fascinating dialogues between the two, revolving around their difference in status, class, education and beliefs. The idea of people as "assets" is repeated a couple of times, on one occasion by Romana (to which Leela strongly objects): Time Lords are codified as profiteers, as those who must make cold, calculating financial judgments of risk and loss. This is anathema to Leela, hailing as she does from an agrarian, currency-less, even pre-feudal society. Romana is used to a pampered, air-conditioned, luxurious lifestyle, while Leela finds the ease of living on Davidia too artificial and unnatural; why have beautiful views if you cannot open the windows and breathe real air? Brilliantly, Romana responds to this request by throwing a chair through the window - the kind of thing we can picture Leela doing, but surely inappropriate for a President - and sharing a laugh about it afterwards. At her best, Leela brings out a joyfully anarchic streak in Romana that is both worth celebrating but which will also, no doubt, get her into trouble with her fellow Time Lords one day. At times the rapport between them is almost that of two misbehaving best friends at school; observe the way they strike deals and compromises - we can do what you want tomorrow, what I want the day after, etc. But, just as Leela is not at home on Gallifrey, a life outside in the open, spending the night under the stars, is not where Romana feels at home; they are friends, but remain as different as they always were (Joe Ford makes the lovely comment that "one was the Eliza Doolittle to [the Doctor's] Professor Higgins and the other was the Sherlock Holmes to his Watson, allowing the Doctor to take a back seat in the action and his companion do the investigating!").
These manifold interwoven themes - regeneration, evolution, "life-change", identity - crystallise in Spirit's secondary plot strand: the arrival on Davidia of a Time Lord injured beyond rescue, yet unable to regenerate. Although it's a shame when Leela and Romana's conversation is interrupted, the plot probably does need some incident to keep the listener's interest, and so things kick into second gear, as, faced with the impossibility of identifying the unknown Time Lord, Romana is left with the dilemma of whether to access the Matrix (leaving her open to Pandora's influence) or not. It is left to Justin Richards to carry on the intriguing plot strand of the broken man in the next audio, Pandora, and I can't wait to hear what he does with it (though I may have to, alas; the next week or so is rather full).

The only area about which I was unsure was that Leela still believes in "intelligent design": I thought she had come to believe in science under the Doctor's tutelage? I suppose it could be that she's reacting against too much time with Time Lords... but this seems a little as though Cole is lapsing into writing "early Leela" rather than Leela as she has developed over her adventures; the discussions of evolution, drawn rather obviously from Richard Dawkins' The Blind Watchmaker, with Leela standing in as William Paley while Lalla Ward represents her husband, are the weakest on show here. On the other hand, they do the necessary legwork required in foreshadowing the Freaky Friday-type mind-swap that goes on in the story's second half: Romana suddenly acquires Leela's gift for primordial instinct, whilst Leela is all at once clinical and analytical (again, this is another nice nod to the idea of "becoming a different person" about which Leela is already concerned), though Jameson does a better job of selling the switch than Ward.
What we have, then, is an (almost) two-hander between Leela and Romana, two of the Doctor's former companions, in which they debate science and superstition, thought and feeling, and neither quite comes out on top because they see the world through each other's eyes (though "intelligent design" is pooh-poohed as a theory, the story makes it clear that the bat-creatures have been 'engineered' by some mysterious hand in some way, and Leela's instincts that something is wrong are right). We have a story that sidelines political machinations in favour of nightmarish, hallucinogenic imagery and musings on what it means to be alone. What a delicious concept for an audio drama, and (for the most part) Stephen Cole delivers on it, continuing Gallifrey II's streak of success.
Other things:
"Ah, we've arrived."/"This is not what I meant by leaving Gallifrey."
"I haven't been so wilfully irresponsible in decades!"
Lots of the dialogue is really rather gorgeous. Romana praises Leela as being "a breath of fresh air" in the Capitol, to which Leela replies "this breath of air you say I bring blows thick dust up in clouds. It chokes me". While Romana's idea of rest is "lying down", Leela prefers to "run out there, through the wildness, give myself to it!" And then there are other examples, like "this is not water, it is a soup of long words!" It's classic theme-in-dialogue stuff, but elegantly done.
"Typically fruit and paradise don't mix."
Sassy Leela: "I'm sure your taste-buds will adapt if you are hungry enough."
"The Doctor was always many people in one... a child one moment, a professor the next. He cared, he guarded. And yet you could never truly know him, could not get close." (Followed by a cheeky metafictional nod from Romana about Ward's marriage with Tom Baker...)
"You speak of your body like it is a machine, but it is not. How can such a big mind be so narrow?"
The Hallan/Melyin scenes are weaker than the rest of the material (especially the seduction stuff), but don't detract too much from the play's central strengths - and the pay-off at the story's end is rather satisfying, putting Hallan in his place and allowing Melyin to escape and start a new life, which is in keeping with the story's themes after all.
"There will be a place for you with me, for always, whatever face I wear."
"It is sad, the casting off of one life."/"And natural to embrace a new existence."/"Like the trees in autumn, burning off their coats of leaves, taking a new shape, but in time the green leaf grows back and the old shape can be seen again."
"People are alike everywhere. Even with one face they can show two."
"Luckily, this is more of a nuisance than a debacle."


Next: Gallifrey 2.3: Pandora by Justin Richards (June 2005)