I could never do these plays the full justice they deserve, so for the moment I've just written a brief outline of my thoughts on each instalment in the BBC's Hollow Crown saga.
"Richard II" (2012):
Good grief, this was extraordinary. Outstanding performance from Whishaw throughout, but particularly as his world crumbled around him. The contrast between "let's talk of graves, and worms, and epitaphs" and the majestic "I have been studying how I may compare" soliloquy was masterfully done, and the handing over the crown scene was electric. Richard gets some of the most incredible language in the Shakespeare canon, and so to see a performance this good, this in tune with the material, really made it fly. I liked Kinnear too; Bolingbroke is not the most challenging part, but in teasing out his respect and to some degree love for Richard, Kinnear made him a more interesting figure than a less experienced actor might've done. Brilliantly filmed and choreographed too. The words to "this sceptred isle" send a shiver down my spine now, in the wake of Brexit and the like, but I think the speech haunts us still in the sense that England - the trees, the mountains, the lakes and rivers and literature - seems too good a country now for the English. Which is more or less what Gaunt is saying in that speech, anyway.
"Henry IV Part 1" (2012):
I enjoyed this, though it's not a play I think is anywhere near as exceptional as "Richard II", particularly in terms of the poetry of the language, so the team behind it (the esteemed Richard Eyre, predominantly) were on a hiding to nothing with that comparison. It's also a shame to see Kinnear replaced by Irons just as the material for King Henry gets interesting - which is no slight on Irons, of course, who rises to the challenge exactly as you'd expect. One of the highlights was seeing Hiddleston doing a spot-on impression of Jeremy Irons in the Eastcheap scenes. Very good. Simon Russell Beale makes a wonderful Falstaff, of course, though I don't quite love the character as the crowning glory of English literature that Harold Bloom sees him as. I hope that doesn't make me a snob - Bloom's implication - I just prefer the musings of the fallen king to Falstaff's drunken pranks. Hiddleston was excellent, though, and I'm really enjoying seeing Henry V earlier in his life before he becomes king - it'll be good to notice the subtleties of performance and overlap between the Henry IV and Henry V plays.
Pretty good. 8/10.
"Henry IV Part 2" (2012):
I enjoyed this quite a bit more than the first part. I know that it wasn't as popular with Elizabethan audiences - in part because Hal and Falstaff spend most of it apart - but that's where the beauty comes from, for me. It's a much more elegiac play with poignant scenes arising in the middle of comic banter between Falstaff and Shallow; Shakespeare's a master at changing the tone between a scene like that, and Russell Beale and Bamber deliver exactly what's needed in spades. The rejection scene at the end was rightly praised. Hiddleston and Irons are both excellent here, Irons particularly in his wandering sleeplessness and paranoia, in which he becomes more and more of a Stalin-like figure grasping on to power and yet nonetheless retains our sympathy even as he is a horrible snob about it all, wishing lack of sleep on the lowest members of society rather than himself. It's a terrifically layered performance of a complex figure. And Hiddleston's transition from Hal to King is very well done too, most notably in that confrontation scene in which he wears his father's crown. The poetry is much more beautiful than in Part 1, as well.
Very strong. 9/10.
"Henry V" (2012):
Everything good about this is almost entirely down to Hiddleston being an excellent actor rather than this being a classic production; he draws his strength from a grounded believability that stems from his man-of-the-people days as Prince Hal, now mostly buried under steel. Agincourt wasn't bad but I wasn't too enamoured with the way Thea Sharrock shot it; Shrewsbury was far superior. Really enjoyed the twist they did with Falstaff's boy growing up to become the Chorus - John Hurt sells the world-weary war veteran in the final shot and it makes sense that Henry's deeds are retold by this boy as legend round the campfire (as it were). In fact, I like to think of this as mythological retelling rather than plausible straightforward narrative, and I think this version skewed a little too "straight" for my liking. Henry, "the lovely bully", does some pretty awful things in the story - such as ordering the slaughter of the French prisoners - and this version skipped over the Fluellen/Gower scene talking about how terrible that is. Plus we lost the traitors' plot, which was a shame. I'm no worshipper at Branagh's or Olivier's altars either (they're even more patriotic) but this wasn't quite as fresh or subversive as I'd hoped. Kudos to The Hiddles, mind.
Not bad but not great. 6.5/10.
"Henry VI Part 1" (2016):
For a play that is this famously mediocre (generally considered one of the Bard's weakest), this is a damn good go at it. I think there's only about half an hour of Part 1 in here, getting all the Joan of Arc crap out of the way (though it's a shame we spend so little time with Philip Glenister's Talbot) with most of it given over to the far more dramatic squabbling of the nobles in Part 2 (and presumably the televised Part 2 will be split between Parts 2 and 3). Anchoring this is not Tom Sturridge's Henry VI - he's perfectly fine but it isn't that kind of part - but three excellent performances: Sophie Okonedo as Margaret of Anjou and Ben Miles as Somerset, both of whom conjure up schemes and machinations in a brazen manner that makes "Game of Thrones" look restrained at times, and at the complete other end of the spectrum a marvellous turn from Hugh Bonneville as Humphrey Duke of Gloucester. His particular fate is, indeed, rather movingly rendered here. The language of Henry VI is frequently rather rudimentary and bland in comparison with later efforts, but for the most part the great cast make it work. One quibble though: haven't they swapped Somerset and Suffolk's roles here, or am I going mad?
Enjoyable. 7/10.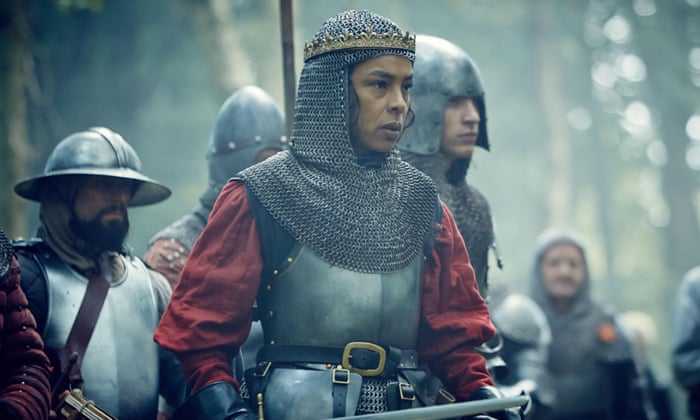 "Henry VI Part 2" (2016):
Very much a game of two halves. Or, more accurately, one half, 40% and then 10% at the end. For the first chunk I thought this was stunning - gripping, engaging political drama, really nicely shot. Compelling stuff. The torture of York and so on is bloody and painful, but it's hard to look away. The Battle of St Albans was breathtaking stuff, bodies littering the streets, a far cry from a formal battlefield with cavalry charges: no war against the enemy this, but England itself torn from within. Sturridge came into his own with King Henry's "Was never subject long'd to be a king/As I do long and wish to be a subject" and the later speech on the hillside, both of which work rather well. Then, unfortunately, it all becomes a terrible mess - not really director Dominic Cooke's fault, and it's all quite educational, but whatever the Beeb's best efforts, characters like Warwick and Clarence chopping and changing their loyalty every few minutes does not satisfying TV drama in 2016 make. The battle of Tewkesbury was a bit ho-hum as well. Still, things pick up in the very final moments of the play, as we finally are permitted a glimpse into Richard Duke of Gloucester's interiority and the schemes that will dominate "Richard III" begin. It's a bit like watching the Star Wars prequels - we're all desperately keen to see the arrival of Darth Vader on the stage and that rather overshadows everything else. But Benedict Cumberbatch is a great stage presence gifted a fascinating role, and so things finally feel like they're moving toward taut, gripping, engaging drama again.
A mixed bag. 6/10.
"Richard III" (2016):
This is a strong TV production of the Machiavellian rise of Richard III; Cumberbatch makes a great Richard, with both he and Cooke rightly emphasising the most interesting thing about the character - namely, not so much his villainy or even his language but the degree to which he draws his audience in to his innermost thoughts and makes them co-conspirators (not even Hamlet does that; we are privy to his deepest thoughts, but he's speaking to himself, not us). Richard, though, seems to boast directly to us and gain our trust and have us on side, as though we see the way he "acts" his acting with the others and approve. Cumberbatch excels at this, with just enough distinction between the soft, conspiratorial stuff and the meek, innocent, naive show he puts on with everyone else. Ben Daniels makes the most of Buckingham, though the Buckingham I saw opposite Kevin Spacey's Richard was better. Bosworth Field is brilliantly shot: all mud and slime and rain and that accursed hollow crown rolling around in the middle of it. I was disappointed that Clarence's dream speech - one of the most magnetic speeches in Shakespeare - was cut so starkly, merely down to the Charon and afterlife segment rather than including the Thames, his premonition of drowning, and the gems under the waves. Still, a small niggle. This was my second-favourite after "Richard II".
Compelling. 9/10.